FSJ Live for Spring into Summer
Hello and welcome back.
I had the most awesome and incredible Saturday doing a virtual stamp camp with Fun Stampers Journey. It was a live streaming event filled with paper crafting tips, techniques, and lots of new product reveals for the upcoming trends mini catalog, Spring into Summer. The catalog will debut on April 1 and believe me, you are going to want to get your hands on these stamp sets and accessories!
Let me back up a bit and say that coaches and customers alike registered for this event and were sent a box with stamps, dies, embellishments and four fully kitted cards that we assembled with some guidance from a pre-recorded video. This was such an excellent idea as it gave stampers a chance to pause the video if they needed more time to complete some of the steps in the creation of their cards.
Today I will share the cards we made just to give you a taste of what is coming in April!
This first card has so many elements to it and took quite a long time to create. We learned a technique with liquid colors smooshed between acrylic blocks to create the watercolor background. There was also some coloring with pencils and a lot of detail cutting to this one. Putzy, but worth the effort.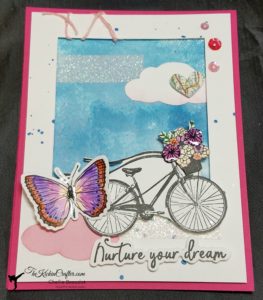 The next card was infinitely easier. It was just die cutting the word hello numerous times, stacking up the layers, gluing them together, and covering with some journey glaze for a wow factor. The background was more blending of liquid colors for kind of an ethereal, dreamy look.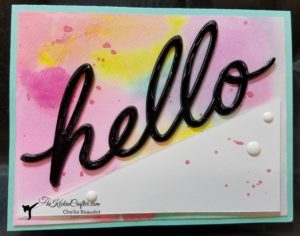 The third card just tickles me with its nod to pickling and canning. We worked a bit of masking to get the little tomatoes to appear that they are all contained in the jar.
And finally, an oldie but goodie: the shaving cream technique. I love how the blend of blues sets off the basic black and white elements on this card.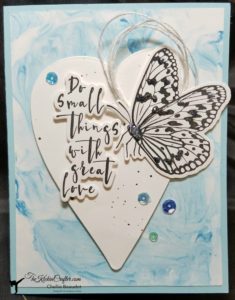 So what do you think? Gorgeous cards, huh? They will absolutely be making their way into my April classes. Contact me today to have some fun with paper and ink!
Chellie