Well, hello there! Remember me? It's been awhile, but your kickincrafter is back! This is my first post in a few years, so forgive me as I work the rust out.
I am an independent coach with Fun Stampers Journey. FSJ is a newer company in the paper crafting world. The quality and innovation of their products are going to knock your socks off. Let's get started…
Today's project is a couple of treat boxes that I made for my brother and sister as we celebrated their birthdays this past weekend.
Both use the Treat Box Die, which is found in our annual catalog, and some printed paper. Our printed paper is quite a bit heavier than what most companies use and can stand up to die cutting. This first box was die cut from the Birthday Pop prints pack and can be found in our current mini catalog, Bloom This Way. This mini is effective through March 31, 2018.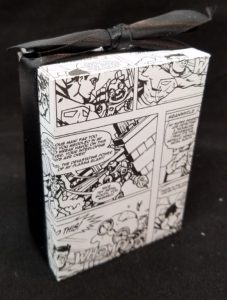 I love this super hero print paper, and so did my brother!
The next box was for my sister, so I chose a paper with a softer pattern from the Spring-Filled prints pack, also in the Bloom This Way mini catalog. After I die cut the box, I used another die set to pop a birthday cake shape into the front panel. Cute, huh? This die set has six images plus outline dies so that you can cut the image out entirely or cut its shape into another project like this: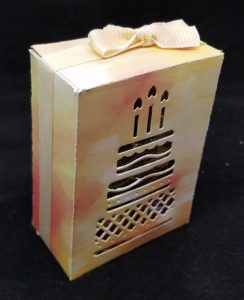 How's that for a treat box with some extra pizzazz! The box is a generous 3 1/2″ tall X 2 1/2″ wide X 1 3/8″ deep. I put 10 Dove chocolates into each.
Thank you so much for visiting today! I appreciate your time and your support. If you like what you see, come on back. I've got lots to show you!
Chellie